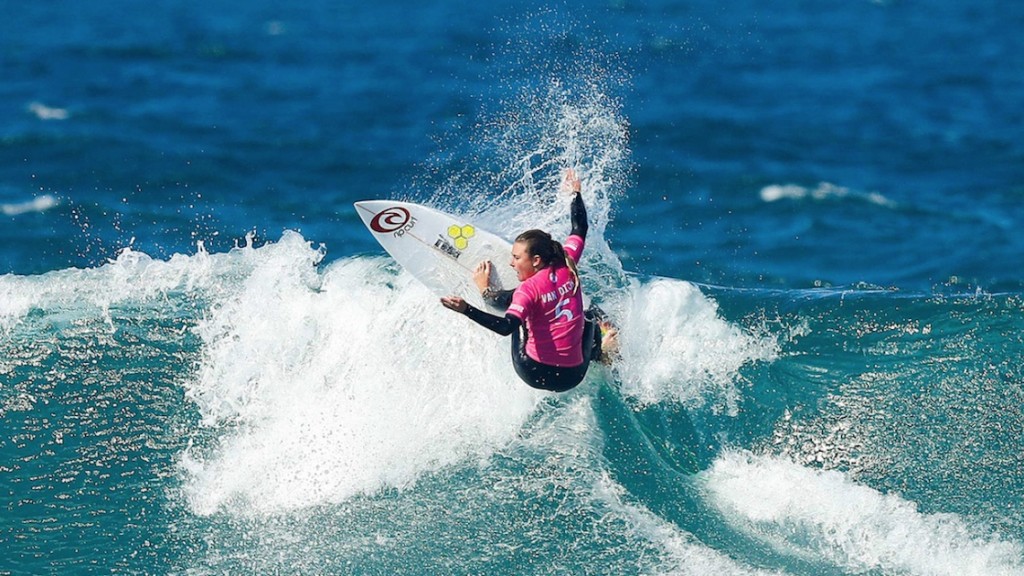 Nikki Van Dijk has won the Cascais Women's Pro, Stop No. 8 on the World Surf League Championship Tour, to claim her first ever CT event win. Van Dijk battled three-time WSL Champion Carissa Moore in an exciting 35-minute final at the back-up venue of Guincho.
Today's victory sees Van Dijk become the first surfer from Victoria, Australia to win a CT event since Tony Ray won the Lacanau Pro in 1992. The twenty two year old will now jump up two places from 7th to 5th on the Jeep Leaderboard, just 350 points behind Sage Erickson in 4th place.
"I have jelly legs, everything is jelly but I'm just so happy," Van Dijk said. "It was so close at the end but I think I've won! It's wild and woolly out there. I was scrambling around at the end because I knew Carissa [Moore] only needed a small score so I was wanting to better my score too. Carissa can get 8's and 9's in her sleep but it was really hard at the end. I like the feeling of this so let's keep it going. I'm just going to enjoy this moment. This is literally what I've wanted to do my whole life."
Van defeated big names to reach the final today, including Lakey Peterson in the Quarterfinals and Jeep Ratings Leader Sally Fitzgibbons in the Semifinals. Van Dijk has two previous CT Semifinal finishes under her belt (Rio in 2017 and Trestles in 2016) but today mark's her first appearance in a CT Final.

"It feels amazing, this is insane," said Van Dijk. "I'm living my eight-year-old dream right now and I'm over the moon. I couldn't imagine what this would feel like but it feels so good. Now that I've done it I'm so hungry to win even more."
The Final saw Van Dijk charge to an early lead by building a 10.17 combined heat total in the opening ten minutes. Moore came back with a bang and posted a 7.83 on her backhand to close the gap on her opponent but the young Australian responded and increased her lead, leaving Moore in need of a 2.84. The three-time WSL Champion spent the remainder of the 35 minute bout chasing down a score. Moore took a wave in the final minutes but the score fell short, with a 2.27, and Van Dijk took the win.
Moore broke past the Quarterfinals today for the first time this season with her runner-up finish and dispatched Sage Erickson and Malia Manuel before taking on Van Dijk. After a disappointing season so far Moore came into the event in 9th place on the Jeep Leaderboard but leaves with her best result of 2017 and moves up to 7th place.
"It's been an up and down year so I'm so stoked just to make it past the Quarterfinals," said Moore. "The Final was just the cherry on top of a great day. Things are really changing out there. I know I only needed a two-something but sometimes those scores are the hardest to get. I'm really looking forward to France and having a lot of fun there."
Jeep ratings leader Sally Fitzgibbons was defeated by eventual winner Van Dijk in Semifinal 1. The shock upset sees Fitzgibbons take home a third place finish but she will retain the Jeep Leader Jersey and increase her lead over her closest rival Courtney Conlogue heading into the next event on the CT, the Roxy Pro France. Fitzgibbons and Van Dijk were neck and neck through the closing minutes of the heat but Van Dijk edged the win by just 0.16 to eliminate her more experienced competitor.
"It's a bit tough at the moment," Fitzgibbons said. "I really thought I'd done enough coming in from that heat. It was one of those heats that I thought I surfed really well so to hear those scores and not come in with the win is a challenge, but something I'll learn from. It felt good that my surfing stepped up from the Quarterfinals but it just wasn't to be today. It was a great opportunity today to go further in the lead and I'm glad we've got an event next week. The challenge is keeping me inspired and fired up to get out there and keep making heats. Everyone is hungry and surfing so well so it all comes down to these close heats."
Malia Manuel was defeated by Moore in an all-Hawaiian Semifinal match-up and secured her best CT Result since the Vans US Open of Surfing last season. Following a four-event absence due to injury Manuel looks to be regaining her form and today's result sees her climb up one place on the Jeep Leaderboard to 14th.
"It was fun, I was a little frustrated to fall on that one wave and that changed my outlook on the heat," Manuel said. "There are so many emotions, I can't not be grateful for a third place finish but I am disappointed. I'm still feeling a little less than perfect but I'm happy to be back, get in the groove and I'm also so happy for Carissa. I love Hossegor so I'm looking forward to that event, it's one of my favorite stops on tour."
The next stop on the 2017 WSL Championship Tour is the Quiksilver and Roxy Pro France, which gets underway on October 7, 2017.
CASCAIS WOMEN'S PRO FINAL RESULTS:
1: Nikki Van Dijk (AUS) 10.67
2: Carissa Moore (HAW) 10.10
CASCAIS WOMEN'S PRO SEMIFINAL RESULTS:
SF 1: Nikki Van Dijk (AUS) 13.66 def. Sally Fitzgibbons (AUS) 13.50
SF 2: Carissa Moore (HAW) 12.50 def. Malia Manuel (HAW) 6.50
CASCAIS WOMEN'S PRO QUARTERFINAL RESULTS:
QF 1: Nikki Van Dijk (AUS) 10.50 def. Lakey Peterson (USA) 7.67
QF 2: Sally Fitzgibbons (AUS) 12.66 def. Keely Andrew (AUS) 9.10
QF 3: Malia Manuel (HAW) 11.60 def. Tatiana Weston-Webb (HAW) 10.83
QF 4: Carissa Moore (HAW) 13.37 def. Sage Erickson (USA) 9.60
2017 Women's WSL Jeep Leaderboard Top 5 (after Cascais Women's Pro):
1: Sally Fitzgibbons (AUS) – 51,600
2: Courtney Conlogue (USA) – 48,100
3: Tyler Wright (AUS) – 46,450
4: Sage Erickson (USA) – 42,350
5: Nikki Van Dijk (AUS) – 42,000
–
Featured image: @ripcurl_usa via Instagram