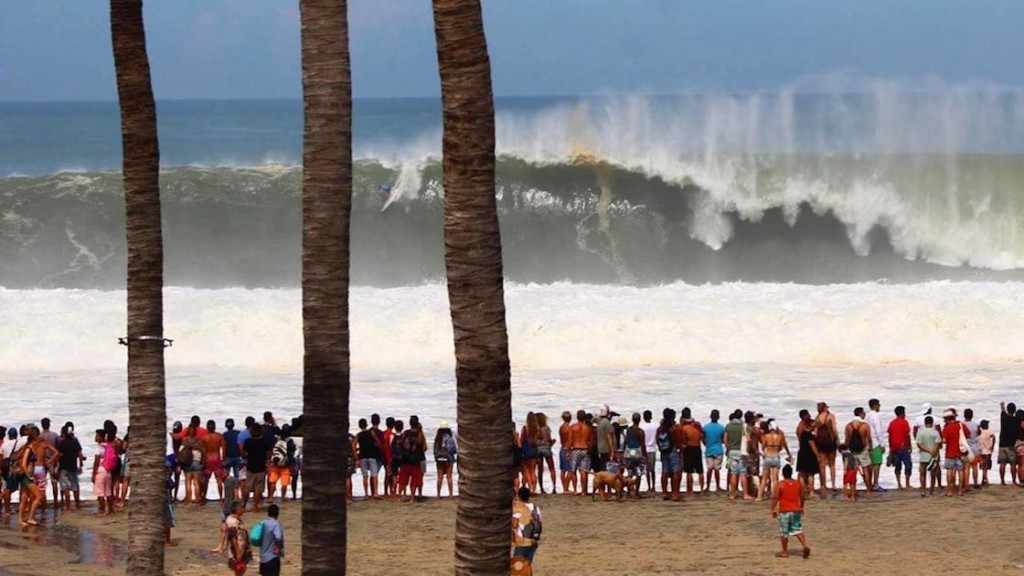 Kai Lenny claimed victory today at the 2017 Puerto Escondido Challenge after besting a competitive field of 24 of the world's best big wave surfers in epic 20-to-25 foot surf at Mainland Mexico's Puerto Escondido.
The first event of the 2017 World Surf League Big Wave Tour, the Puerto Escondido Challenge, saw no shortage of excitement as Lenny took on the towering conditions to collect his first BWT victory. Big Wave Tour Commissioner, Mike Parsons, alongside the judging panel, gave today's event a Bronze rating, as faces were deemed in the 20-to-25 foot category. Based on the Bronze rating, Lenny will lead the rankings with 10,000 points.
"I remember coming here last year and being super terrified because I had never been here," said Lenny.  "My goal last year was to make the Final because I missed out last time. There are so many good big wave surfers in the world that when you get called up you really feel like you have to perform and charge. My goal today was to not hold back and — when a good one came — go no matter what. It was a pleasure competing with these guys. Any one of them could have won if they got the waves and I was just grateful to get that last one in the end. It was so special. Thank you to my friends, family, and sponsors. I am super grateful right now!"
The hour-long Final witnessed multiple lead changes as Lenny, Jamie Mitchell, Tom Lowe, Billy Kemper, Trevor Carlson and Alex Botelho navigated the heavy beachbreak conditions. Mitchell charged out the gates to lock in two massive waves, but his incomplete rides only garnered low scores. Lenny took advantage of a solid set to earn a 6.33 (out of a possible 10) and gained the lead heading into the halfway mark. Under pressure in the second position, Mitchell flew down a steep barrel for a 7.22 to surpass Lenny's score. With fifteen minutes left on the clock, Lowe and Kemper had also posted solid attempts, but still trailed behind Lenny and Mitchell. The dramatic Final continued all the way to the dying minutes of the heat. Lenny, still in second place, miraculously found the exit on a massive barrel for an excellent 8.60 and the win.
"I can't believe it," continued Lenny. "I am so stoked. That was awesome. I knew I needed a good score because Jamie (Mitchell) got one. It was hard to get waves out there because they were just so shifty, but then the one that I had been waiting for finally came. Everyone was a little too far in or too deep.  I knew that that was it. I did a slow bottom turn and then I knew I had it."
In his fifth Big Wave event, today's win marks Lenny's career-best result. Lenny will now lead the rankings heading into the Northern Hemisphere season, which opens October 15, 2017. Lenny will look to maintain his frontrunner position by besting his previous 9th place result in Pe'ahi and 13th in Nazaré.
Jamie Mitchell secured the runner-up position and will look forward to defending his Nazaré Challenge title going into the Northern Hemisphere window. Mitchell charged through the three critical rounds with a fractured sternum, which he suffered at Puerto Escondido a few weeks prior to this event. The Australian will now take time to recover and return even stronger to the second-half of the year.
"There are so many guys wanting to be where we are right now — they are animals," Mitchell said. "You just go into beast mode and try to numb out the pain. All these guys are so talented. I am really stoked for Kai. To see him win today is great. It was an amazing Final and I am stoked to be here."
In his second time competing on the BWT, Tom Lowe proved himself with a third place result in Puerto Escondido. Lowe, who hails from St. Ives, Cornwall in the UK, earned first in Semifinal 2 and first in his Round 1 matchup en route to his third place finish, the highest ever by an English surfer.
Event standout Billy Kemper will claim fourth place in this event. Earlier today, Kemper swept both his Round 1 and Semifinal heats with the highest scores in each round. Kemper's dominating rides also collected the highest single-wave score of the event, a near-perfect 9.00. Kemper, 2016 and 2015 Pe'ahi Challenge winner, will prepare for an historic third straight event win with the 2017 Pe'ahi Challenge as an option to run this season.
Alex Botelho received the last minute call-up to replace two-time BWT Champion Greg Long after Long withdrew due to injury. Botelho made the most of this opportunity to earn his Finals berth and best result, fifth place, in a Big Wave Tour event.
The first Semifinal saw 2014/15 BWT Champion Makuakai Rothman barely miss his opportunity to advance to the Final as he fell just .13 points short of advancing over Botelho. Rothman will exit in Equal 7th place. The youngest competitor in the event, 20-year-old Jimel Corzo, also faced elimination in the Semifinals despite his Round 1 Heat 2 win. He will finish with Equal 9th. Nathan Florence put up a strong fight in the first two rounds and will receive an Equal 11th result.
Grant "Twiggy" Baker, two-time BWT Champion and defending event winner, was eliminated in the opening heat of Round 1 today after Kemper, Carlson and Florence took the Top 3 spots in the heat. The South African will now look to the Northern Hemisphere season to regain critical points to jumpstart his 2017 BWT Title campaign.
"I was actually super relaxed coming here," said Baker. "We had a couple of warm-up days before the contest. The waves are pumping and I thought that things felt good. I just got into the heat this morning and it was just such a good heat. Billy was on fire, Trevor got that bomb and Nathan had a couple of good waves, too. It just wasn't my day, but the most important thing is the contest. The contest has been amazing. The waves have been pumping, the swell has been bigger than I expected. Everyone is super stoked."
2016 event finalists Pedro Calado and Will Skudin were not able to advance out of Round 1 and exited in 17th and 21st  place, respectively.
The 2017 BWT season is divided into Southern Hemisphere and Northern Hemisphere components. The Southern Hemisphere window, which runs from May 1 – August 31, 2017, is now complete after today's Puerto Escondido Challenge. The Northern Hemisphere window will open on October 15 and run through January 31, 2018 with event options in Portugal, Hawaii and Mexico.
Now feast your eyes on the wildest wipeouts from the 2017 Puerto Escondido Challenge!
Featured image: @camilaescaryfotografia via 

Instagram