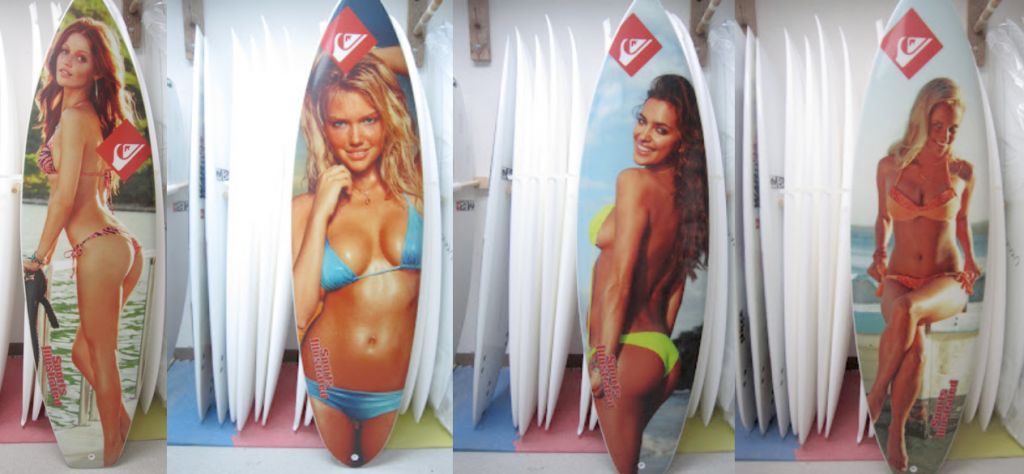 Have you ever dreamt of looking down at your surfboard while you're catching a wave, only to see a giant picture of your own face staring back at you? Well now you can! Thanks to Headline Graphics in Encinitas, California, surfers can now order boards with customized, high res, imagery using their exclusive HG Photocloth.
As far as the technology goes, HG has developed something pretty cool. By means of a proprietary fabric that's far more detailed and durable than traditional rice-paper decals, HG Photocloth offers further resistance to sunlight fading using dye sublimation processes. Rice-paper methods absorb nearly 20% of the color, including up to 20% more which is lost in the glassing process. HG Photocloth claims to retain 100% of its blacks, which produce "photo-realistic images with pristine detail".  Technical jargon aside, this inventive product allows nearly unlimited potential for your surfboards and SUP's. They even have a graphic library on their website, which allows customers to browse through pages and pages of pre-designed graphics.
Having been featured on local news shows and surf sites galore, HG Photocloth has also collaborated with charitable organizations, even brands like Jim Beam and Tommy Hilfiger. One of the coolest collaborations by far, was with the 2012 Sports Illustrated Swimsuit Edition. You guessed it; the boards were slapped with larger-than-life images of the notoriously beautiful SI models (which included Kate Upton by the way). The fantastic shapers over at Quiksilver also shaped the boards, making them all the more interesting.
Looking to market your brand? Looking for decor to hang in your new apartment? Or maybe you're just looking for a customized board for, well, actual surfing. As a customer, you'll have full control over your board, whether it's color, shape, and obviously, artwork. Whatever your needs, HG Photocloth seems like the way to go.