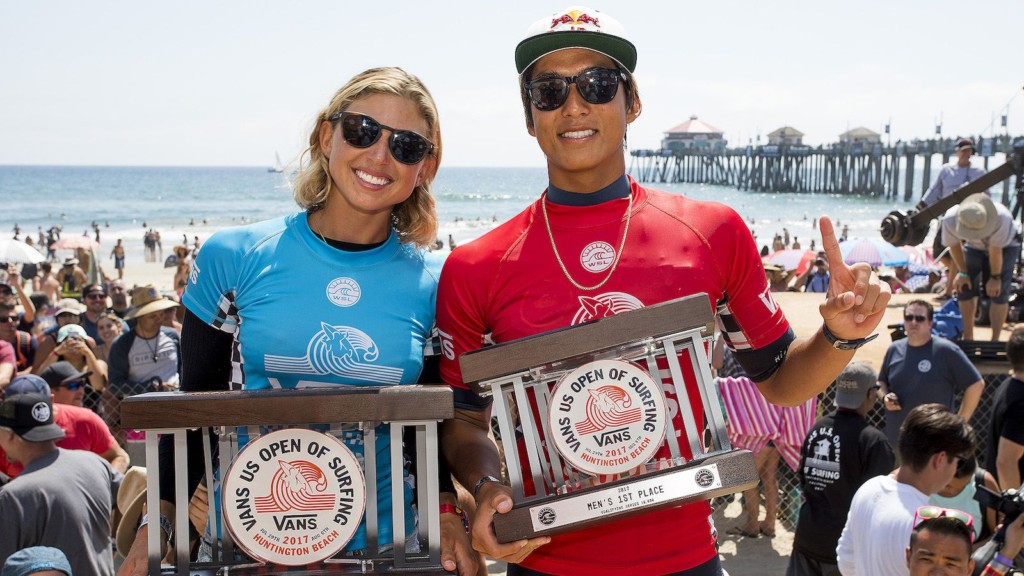 Sage Erickson and Kanoa Igarashi claimed victory today at the Vans US Open of Surfing  in two-to-four foot waves on the southside of the Huntington Beach Pier. A capacity crowd witnessed Erickson clinch the win at Stop No. 6 of 10 on the World Surf League Championship Tour and Igarashi take out the Men's Qualifying Series 10,000 event.
Erickson claimed her first Championship Tour victory today after defeating 2016 event winner Tatiana Weston-Webb in an intense Final. The 26-year-old will now vault from 9th to 6th on the Jeep Leaderboard, just 1,450 points behind World No. 5 Johanne Defay. The 10,000-point gain significantly strengthens the Californian's 2017 World Title campaign heading into the Swatch Women's Pro, Stop No. 7 on the Women's CT.
"I feel like I've been working really hard for a moment like this," said Erickson. "Something felt really special about this event. I was really comfortable and just aiming high. I can't believe I'm here. I'm not World Champ, it's just the US Open, but it still feels like that so I'm going to celebrate it like I am. I can't be more proud to be from a place like America — you can feel the energy and all the support from all the people on the beach. It's just amazing to bring my first win home in California and to do it in a place like Huntington couldn't be more of a surreal situation."
In their fifth head-to-head match-up, today's Final saw Erickson claim her second win over Weston-Webb to earn the event title. Weston-Webb held an early lead through to the halfway mark with multiple attempts in the beachbreak conditions. Erickson stayed patient, with only one wave ridden at the halfway mark, but maximized on a second opportunity to take the first position away from Weston-Webb. Determined for a second event win, Weston-Webb battled back to earn a 0.36-point lead with less than ten minutes to go. Under pressure, Erickson had the Huntington Beach crowd to their feet as she meet the 4.63 requirement with a 6.67 for the win.
"I had the best wave to start and I just blew it so hard," continued Erickson. "I just told myself, 'it's okay, don't worry.' Then I bogged another wave and just thought that now I really have to get it together and luckily there were some waves out there. I got that last wave and I don't know exactly what I got, but this feels like a dream. I'm in complete disbelief and can't thank everyone enough."
Today's runner-up result marks Weston-Webb's second of 2017. The 26 year-old is heating up this season with back-to-back event Finals with her finish in Huntington and at the OK Fiji Women's Pro. Weston-Webb will move up two spots to 8th on the Jeep Rankings, just one place higher than three-time WSL Champion Carissa Moore.
"Two Finals in a row, wow, I can't thank God enough for putting me in this position and of course my support crew. Everyone here was second-to-none," Weston-Webb said. "My surfboards have been amazing under my feet and my sponsors have just been incredible, and I love them all so much."
En route to her maiden CT Finals appearance, Erickson took out 2017 World Title contenders Courtney Conlogue, Sally Fitzgibbons and Moore.
The second Semifinal saw a close battle between the California natives. Conlogue got an early lead with a 5.23, but Erickson came charging back with a 7.50 for control. Conlogue regained first position with a 6.23, but again, Erickson fired back with another big score to put the pressure on Conlogue. Needing a 7.11, the Huntington Beach local fell just 1.87 points short and was eliminated from the event.
Conlogue is off to a great start this year with two CT wins at Bells and Fiji. Conlogue's third place result will move her up to 3rd place on the Jeep Leaderboard and one step closer to wearing the yellow Jeep Leader Jersey.
Weston-Webb dispatched Coco Ho in the first Semifinal match-up. Ho will exit Huntington Beach with a 3rd place finish, her first Semifinal berth and best result this season. Ho will jump from 12th to 11th on the Jeep Leaderboard.
Alongside Erickson's stunning CT victory, Igarashi saved his best performance for last and opened up with an incredible, near-perfect, 9.63 in the Final — the highest single-scoring wave of the men's event. The local hero bashed three major backhand attacks and finished on the shorebreak in front of his hometown crowd to the eruption of applause. Igarashi then took that momentum into his next wave with two more critical backhand snaps that earned him a 5.60 and put an in-form Tomas Hermes in a combination situation — something Hermes was unable to come back from after Igarashi closed the door in the dying minutes with a 7.60.
Check out all the highlights from finals day in this next video…
The 19-year-old was beside himself as his friends and family rushed in the water to the crowd's deafening applause for his first-ever Vans US Open of Surfing QS 10,000 win.
"This is crazy, just getting two Semifinal results here hurt so much, but it finally came," Igarashi said. "I felt like this was going to be my year. A lot of people kept telling me it was and I just believed in it and it came true. This place means the world to me. I learned how to surf here. It's just so special to be here with my friends and family. This contest means so much to me, it was the first place I ever watched pro surfing. Just sitting on the beach watching guys like Kalani Robb battle it out was incredible. I've just wanted to be around these guys and to win the US Open with this crowd here — it's a day I'll never forget."
Hermes' incredible run at the Vans US Open of Surfing finished with 8,000 vital points and propelled him to QS No. 4 in hopes of CT qualification. Hermes now has a renewed vigor heading into the rest of the season after eliminating crowd favorites Patrick Gudauskas and Carlos Munoz en route to his Final appearance. The result marks the 30-year-old Brazilian's best finish since 2013, where he earned a victory in Portugal, but unfortunately the win was not to be replicated with the insatiable form of Igarashi.
"Last year was a really tough year for me after my foot injury, but I'm feeling so good right now," Hermes said. "To be here with the amazing crowd and these people, along with my family and Vans down here supporting me every single day, I'm just so stoked. I've haven't been knocking on the door for two years now and I'm feeling better than ever. I'm ready for the tour, I'm ready for my life, and I'm just ready for everything."
A rematch from last year's critical Semifinal unfolded between Igarashi and Filipe Toledo in dramatic fashion. The opening exchange witnessed both surfers paddle for a wave, but Toledo cut across Igarashi and was given a non-priority interference as the wave was deemed a disrupted opportunity for Igarashi, who was closest to the peak. The interference did not stop Toledo from putting on a brilliant aerial display that made Igarashi fight for every score through. Ultimately, hometown hero Igarashi emerged victorious after earning a 6.85, in need of a 6.50, and held that lead until the final horn.
A year full of surprises continues at both the CT and QS levels with a big performance from Munoz, whose dream run ended in the Semifinals and catapults him into No. 19 on the QS heading into the back half of the year.
The next stop on the 2017 WSL Championship Tour will be the Billabong Pro Tahiti, which will see the world's best male surfers resume this season's title race from August 11 – 22, 2017.
–
Vans US Open of Surfing Women's CT Final Results:
1 – Sage Erickson (USA) 11.84
2 – Tatiana Weston-Webb (HAW) 9.80
Vans US Open of Surfing Women's CT Semifinal Results:
SF 1: Tatiana Weston-Webb (HAW) 11.10 def. Coco Ho (HAW) 7.34
SF 2: Sage Erickson (USA) 13.33 def. Courtney Conlogue (USA) 11.46
2017 WSL Women's Jeep Leaderboard (After Vans US Open of Surfing):
1 – Tyler Wright (AUS) 41,400 pts
2 – Sally Fitzgibbons (AUS) 39,900 pts
3 – Courtney Conlogue (USA) 38,300 pts
4 – Stephanie Gilmore (AUS) 34,750 pts
5 – Johanne Defay (FRA) 33,400 pts
Vans US Open of Surfing Men's QS10,000 Final Results:
1 – Kanoa Igarashi (USA) 17.23
2 – Tomas Hermes (BRA) 11.10
Vans US Open of Surfing Men's QS10,000 Semifinal Results:
SF 1: Kanoa Igarashi (USA) 12.26 def. Filipe Toledo (BRA) 11.92
SF 2: Tomas Hermes (BRA) 11.84 def. Carlos Munoz (CRI) 10.70
Vans US Open of Surfing Men's QS10,000 Quarterfinal Results:
QF 1: Kanoa Igarashi (USA) 13.30 def. Ricardo Christie (NZL) 11.83.
QF 2: Filipe Toledo (BRA) 13.43 def. Josh Kerr (AUS) 12.10
QF 3: Carlos Munoz (CRI) 10.06 def.  Michael February (ZAF) 5.17
QF 4: Tomas Hermes (BRA) 12.47 def. Patrick Gudauskas (USA) 12.40
2017 WSL Men's Qualifying Series Rankings (After Vans US Open of Surfing):
1 – Jesse Mendes (BRA) 22,700 pts
2 – Michael February (ZAF) 14,750 pts
3 – Kanoa Igarashi (USA) 13,310 pts
4 – Tomas Hermes (BRA) 13,010 pts
5 – Griffin Colapinto (USA) 12,380 pts
–
Featured image: © WSL / Morris