California is home to some of the greatest surf spots and communities with an extreme variance in wave sizes and difficulties. With California's size it is easy to see how this coast differs from one place to the other. Today I will expand on five of the best places to make a trip to in the golden coast and why you should totally go. I will be excluding my own local spot as I believe it is biased for me to put it on the list, but if you're ever in the San Luis Obispo County area you should definitely hit up the rock or the strand.
Disclaimer: Since all of these places are great, consideration into ranking has not been taken into account. 
1. Santa Cruz
Santa Cruz is kind of like the ground hog day of California…well at least the surf is. Due to the natural bight formed by the coast that absorbs swell from either direction, the waves are good all year long, so every day is the same as the last one. Believe it or not the first waves to be ridden in the Continental United States were in Santa Cruz and ever since then the town has had a thriving surfing community. The place is pretty low-key and the people are nice enough to spend astronomical prices to live there and let you swing on by and take up some space in the line-up. When it comes to variety, Santa Cruz has everything, some great bodyboarding bombs, secret spots, a world class right in Steamer Lane, and if you're feeling stupid Maverick's is like an hour and a half drive away. Granted, Santa Cruz finds itself on the Northern part of  Cali so make sure you bring a thicker suit.
2. Rincon
One thing's for sure, you'll barely be able to stand after a day at Rincon. On a good day you can expect Rincon to look just like this, with a lot more people out of course. Rincon is divided up into three breaks: the Cove, Rivermouth, and Indicators, all of them great. Its located off of Highway 101 just before Ventura and Santa Barbara county. The community isn't as great as Santa Cruz's and some of the locals can be real jerks, one time a buddy of mine got his board ran over and the perpetrator responded by saying it was my buddy's fault for being at "his" break. If  you can avoid some of the air heads, Rincon is great and will service you're long ride desires.
3. San Clemente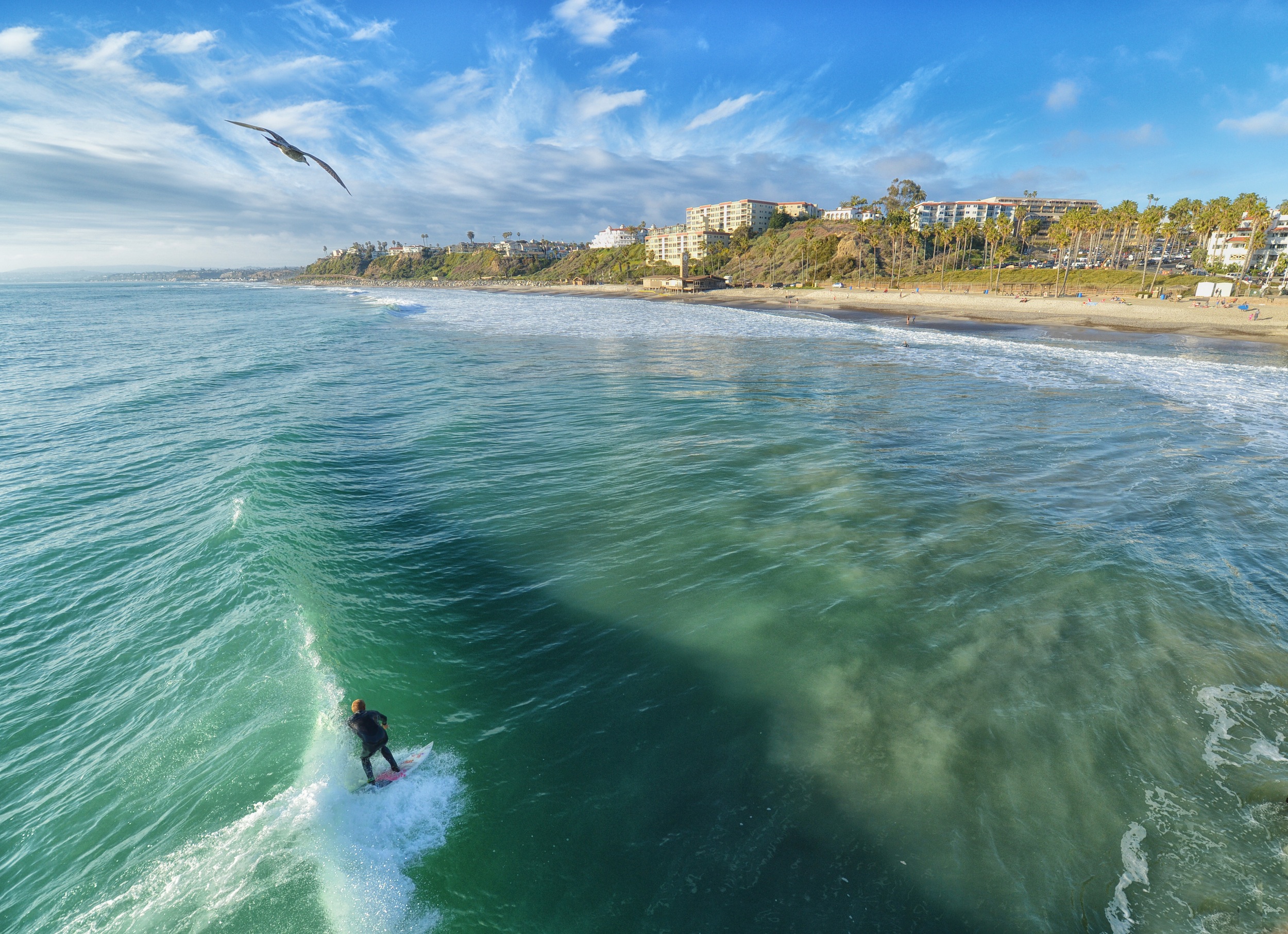 San Clemente is home to several great breaks that could honestly have their own spots on here, but we'll just summarize them here. Ever hear of Trestles or T-Street? We'll there both here and not mention there's some pretty good surf in between the both of them. Some claim that surfing Trestles is the ultimate California surfing experience, and they might be right. There are no lifeguards, beach crowds, or spongers…just endless point break waves. Can't decide if you prefer going left or right? Well you can find your sense of direction at Trestles. T-Street is the more family friendly version of Trestles, there are showers, bathrooms, fire pits, and its pretty accessible. The main peak at T-Street is pretty far out and can be kind of heavy, however that doesn't mean its not a great wave. If you're looking for more bowled up breaks, heading either north or south of the main break will give you that. The only thing is that during the summer T-Street is totally blackballed, which means that there is no surfing from 9AM to 6PM. San Clemente is a great place to take a week long trip to since several other great spots like Oceanside, Dana Point, Laguna Beach, Newport Beach, and Huntington Beach are all a half an hour away.
4. Malibu
Malibu was one of the many places that blew the frick up this last summer during all of the south swells. If you haven't seem some of the videos of guys shooting the Malibu pier then you weren't paying attention. This is a favorite spot for long boarders as the wave here is a little slower allowing for some great long rides. When the south swell hits the three breaks can all connect to make one long hard hitting right that allows for the pier shooting we normally see. The only problem is that it can get a little packed with locals and Patrick Swayze stunt doubles (inserted Point Break reference).
5.  Encinitas
When it comes to the best thriving surf community, Encinitas takes the cake. It may not have the best breaks in all of southern California but the vibe of this town is awesome. The people are beyond chill and there's an overwhelming sense of slowness to the place, which can also be reflected in the surf. When Marie fired up the south swell last summer, Encinitas was all like "Let's not get to crazy! Send some of that energy up to Malibu!" and so Encinitas doesn't mind sharing. Encinitas is home to Seaside, Cardiff Reef, Swamis, and D Street and miles of decent surf. Most of the waves here crumble really nicely especially at Cardiff while D Street can offer some bowled up barrels. This is an awesome place to overstay your welcome at with multiple campsites and rent-for-a-week-houses to call your temporary home. Just make sure that if you're ever at Cardiff reef to hit up Bull Taco after your epic sesh.
-Something worth Checking out
A few weeks ago we featured photographer Chris Burkard who has composed a book called the California Surf Project that features some of these spots. It's a cool narrative expressed in photos and memories and is worth checking out. Anyways, stay frothy friends.