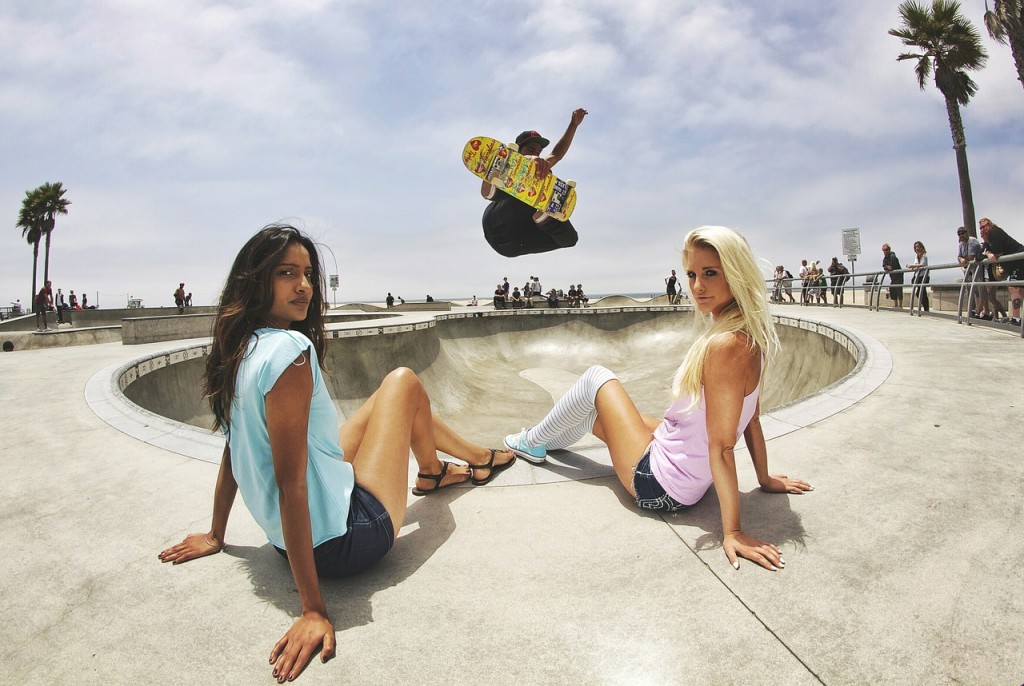 Ticking off as many skate spots before you get too slow, sore or old doesn't always take precedence in a skaters mind, but before you know it it's too late. There are lots of things that get in the way of skating, but if you have a chance to get away and travel then snatch it up and go. Sick skate spots are scattered all over the world, with some of the biggest cities serving up the crème de la crème of street spots and carefully crafted skateparks. Here are some of the best, 5 cities to skate before you die.
Melbourne, Australia
If you find yourself down under there is no better place to head than Melbourne in the state of Victoria. To get started hit up the Riverside Skatepark, its free so why not! From there it all depends on what you want to skate. Lincoln Square is a great all-round skate spot with ledges to grind and flatland for ollie tricks. For stair jumps head to the Melbourne Aquarium where a set of 8 will greet you, and for rails check out the golden ones outside Flinders Street Station, but good luck dodging the commuters here!
Los Angeles, USA
The birthplace of skateboarding, LA is where it all began. Los Angeles has it all, and still after all these years the most progressive skating is coming out of the City of Angels. The iconic Venice Beach Skate Park is a must on any visiting skaters list, but besides all the parks on offer you then have the schools and plazas. Lockwood Elementary has banks to slide and Hollywood High has a 12 and 16 set of stairs to jump. JKwon plaza offers plenty of kerbs and flatland, but for rails look no further than Wilshire Rails, first featured on screen in 1991!
Shenzhen, China
The city of marble, Shenzhen in China rose to prominence in any skate video worth their salt thanks to its ultra skate-friendly terrain. So smooth and with a whole host of sick street spots to hit up, Shenzhen is China's skate mecca. Check out the Deng Xiaopeng Plaza for bending marble kerbs and Tao Yuan Ju for a variety of stair sets with ledges to boot. Another two must skate spots are the Shenzhen Museum for its awesome ledges and the Children's Palace for its mellow kerbs.
Bogota, Columbia
An underestimated skate haven for decades, Bogota in Columbia is finally beginning to get the recognition it deserves. The spots are rough, but the hilly terrain means there are steps and ledges every corner you turn. Head to the Cathedral of Bogota to get started with stairs, ledges and kerbs, along with the Presidential Pleasance for more of the same. The San Cristobal Skatepark is an awesome pace to meet some locals and find out about some of the hidden spots in the city.
Barcelona, Spain
The skateboarding capital of the Mediterranean, Barcelona is Europe's skating jewel and for good reason. It's almost unbelievable that so much architecture here lends itself to skating so perfectly. There are too many spots to list, so here are just a few to get you started. The Universitat serves up three marble ledges perfectly lined up and super-smooth flatland. Perfect your manuals at Parallel, home to arguably the best set of street manual pads in the world. For banks try out Montbau and the Sants Metal Dragon, for hips head to Black Triangle hips, and for a sweet rail try the Sant Marti hand rail. That's just the start, so just skate and you will find.