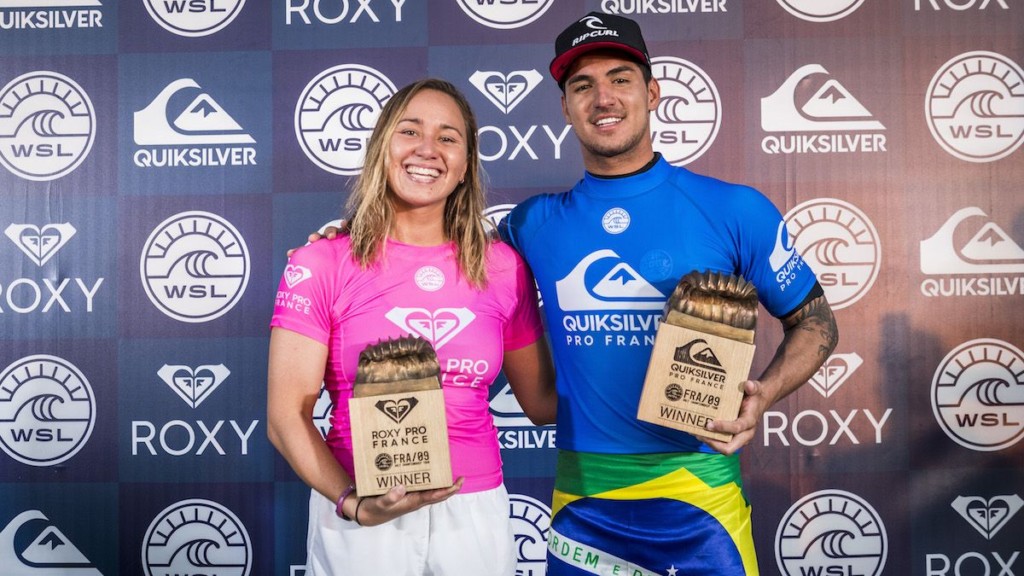 Gabriel Medina and Carissa Moore claimed victory at the Quiksilver and Roxy Pro France, respectively, in excellent three-to-five foot rippable peaks at Stop No. 9 of the World Surf League Championship Tour.
2014 WSL Champion Medina built momentum all week to peak at the perfect time in the final series and put together two massive heats in the Semifinals and Final to win the Quiksilver Pro France. His final bout against Sebastian Zietz, held in picture-perfect conditions at La Graviere, was the third French win of his young career.
Three-time WSL Champion Moore claimed back-to-back wins at the Roxy Pro France today, elevating her game to a whole new level and putting herself back in the World Title conversation by dispatching Lakey Peterson in the Final.
The incredible surf conditions at the Quiksilver Pro France, Stop No. 9 of 11 on the 2017 Men's Championship Tour, elevated the level of performance to new heights and witnessed Medina earn his third Quiksilver Pro France win. The 2014 WSL Champion showcased his dominance today after defeating Zietz in the Final, reigning WSL Champion John John Florence in the Semifinals, and 2012 WSL Champion Joel Parkinson in the Quarterfinals.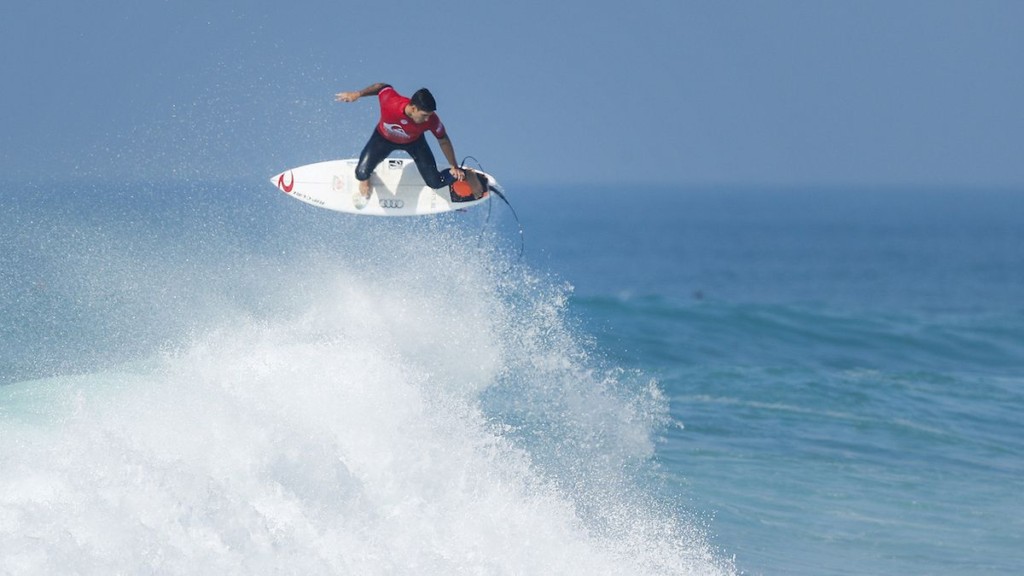 "I am so stoked," said Medina. "It feels so good to win again. I have been working so hard before this event. This is a really special place for me. I am just stoked. I had a great event here with the good waves we got. I am really happy right now. I am not thinking about a World Title or ranking — I just want to do good at every event. I promised myself that I had to win one event this year and I finally got it!"
The Brazilian's triumph today not only marks his eighth Championship Tour win, but it also vaults him from 8th to 3rd place on the Jeep Leaderboard, placing him well within striking distance of the World Title behind Florence and Jordy Smith. Medina will now look to continue his success on the European leg at the next stop on the Championship Tour, the MEO Rip Curl Pro Portugal, which opens on October 20, 2017.
"It feels amazing to be back here in France," continued Medina. "I love this kind of beach break. I have waves like this at home, so I feel really comfortable here. France has always been nice to me. This is my third win here and it's amazing. I feel good about the World Title race. Now it is Portugal. Everyone starts from zero, so we will do this all over again, and hopefully, I can do good there."
In the Final Medina was first to gain momentum as he attacked the long rights with his signature vertical hacks to put a 14.84 heat total quickly on the board. Medina continued to build and pushed his total up to 16 points to claim a third win in France and his first victory this season.
The runner-up finish for Zietz is his best result in 2017 and the second Finals berth of his career. The 29-year-old surfer will now move up four places to 11th on the rankings. En route to his matchup with Medina, Zietz dispatched World No. 4 Owen Wright in Round 5, Miguel Pupo in the Quarterfinals and Kolohe Andino in the Semifinals.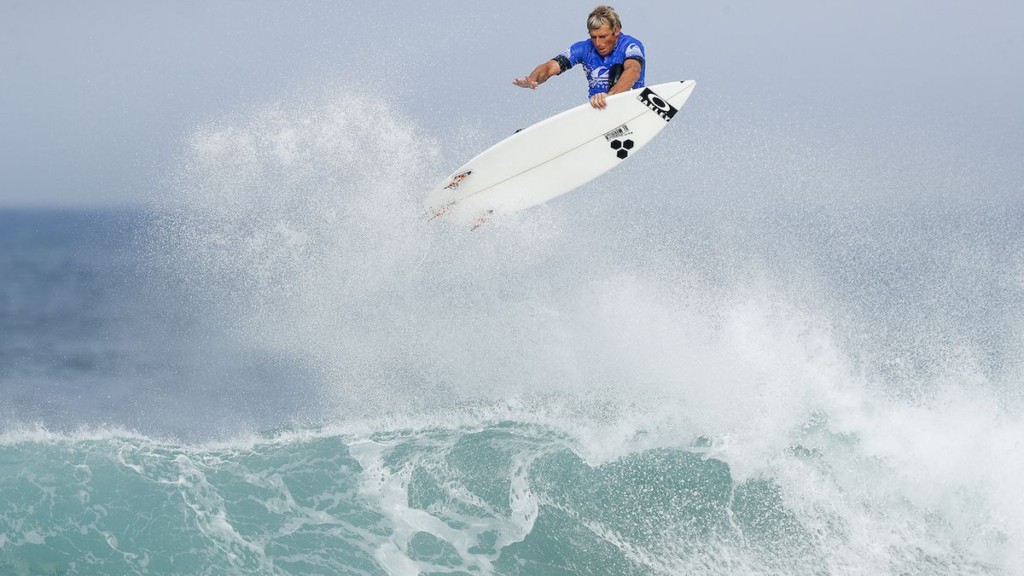 "The conditions were just amazing at this event," Zietz said. "It was a great time. I am super happy with this result. I had to come up against Gabriel. That side of the draw was super gnarly — Gabriel and John are probably the heaviest guys on Tour right now — so to come up against Gabriel, I knew it was going to be tough. Kind of bummed that I did not put up more of a fight, didn't get over a 5, but it's alright because it was fun and I got a trophy."
Kolohe Andino's French run ended when the Californian faced Zietz in the Semis. The Hawaii surfer found one of the last few remaining tubes of La Graviere and made the situation difficult for Andino. With his second Semifinal finish this season, Andino will jump two spots into the 10th position on the Jeep Leaderboard.
Florence went head-to-head with Medina in an epic Semifinal clash where both surfers took the debate to the air. A very slow start of the match-up almost ended in a heat re-start but the two aerialists found plenty of opportunities in the second half of the semi to put on an amazing show for the crowds.
The reigning WSL Champion had a blasting path to the Semis with no less than seven 9-point rides in the previous three heats and all of the event's highest heat totals. With an equal third today in France, the Hawaiian will head to Peniche wearing the Jeep Leader Jersey, moving past Smith who was eliminated in Round 3.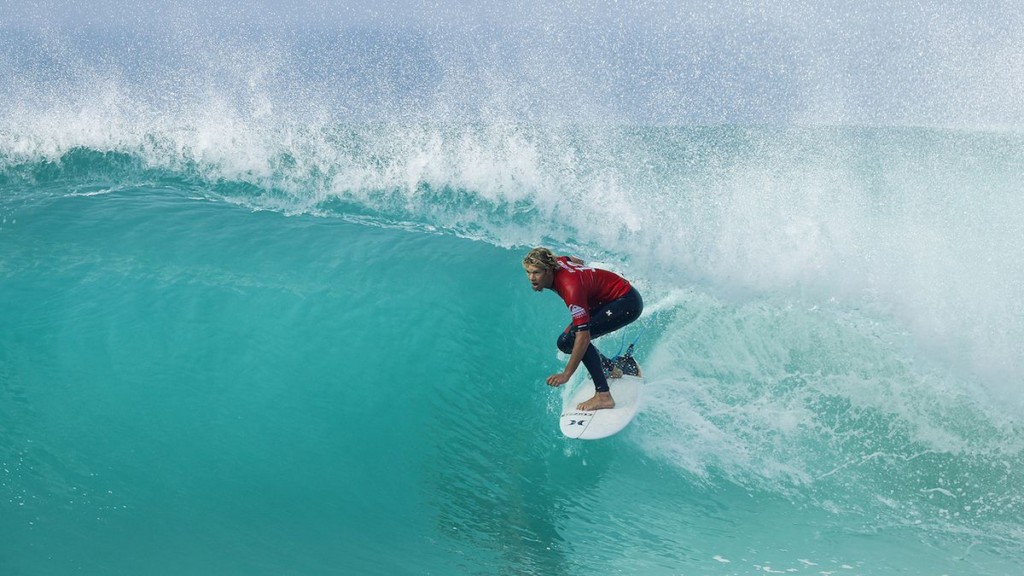 "It was a really fun heat, they're always interesting against Gabe," Florence said. "I made a few mistakes in the beginning of the heat and it kind of cost me then. But I was stoked I ended up getting a couple of good waves. I have so much confidence going into Portugal for sure, the waves and the people here have been so awesome it's been such a good trip all together."
Marc Lacomare's incredible run as a wildcard ended in the Quarterfinals where the Frenchman couldn't complete a decent ride and fell to Andino. The result marks the first time a French surfer has reached the quarters in a very long time and gave a great glance at Lacomare's potential as a future Championship Tour surfer.
Stop No. 9 of 10 on the 2017 World Surf League Championship Tour, the Roxy Pro France, was equally graced with incredible conditions for the world's best female surfers, culminating with Moore's victory.
"It has been a crazy year and just to come out with a win is amazing," said Moore. "This one means so much because it has been a tricky year. I've been going through some growth personally and it was just nice to see it all fall into place. I was just really happy this event. I had such a great support crew here and at home. The vibes were really good this week."
The three-time WSL Champion claimed her first event win of 2017, putting an end to an unusually victory-poor season. The Hawaiian started building momentum in Portugal last week where she placed runner-up and took one step further today to claim back-to-back titles at the Roxy Pro France. Today also marks the Hawaiian's nineteenth Championship Tour win.
"I'm so stoked, we couldn't ask for better conditions here and it's been a long time since I won an event," Moore said. "Coming up against Lakey, I was a little nervous but I knew I just had to let everything go and just have fun. All the girls have really raised the level each event. I am grateful to be here and I am really inspired by my peers. Life can't get much better."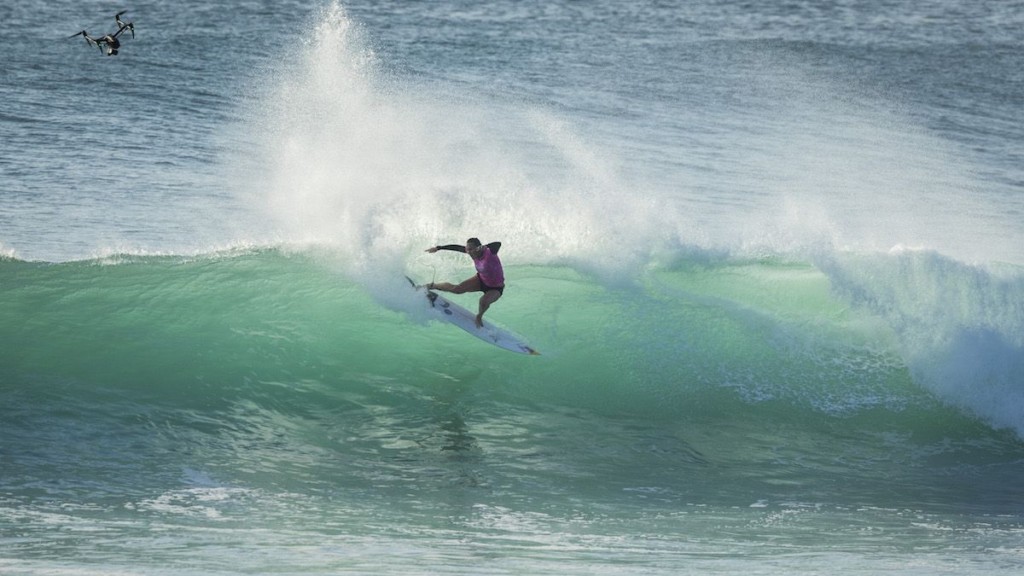 Moore's path to her back-to-back win at the Roxy Pro France was the longest it could have been as she surfed in all seven possible heats of the event. Despite being relegated to the difficult elimination rounds early on, Moore's determination paid off with wins over current World No. 1 Sally Fitzgibbons, Stephanie Gilmore, Silvana Lima, Pauline Ado, and eventually Peterson in the Final.
In a slow start of the Final, only Moore was able to build a little momentum with a couple of small scores while Peterson struggled to find a good wave. Moore stepped up ten minutes in with an incredible ride to post a 9.20 on a combination of carves for a strong lead over the Californian. Peterson fought back with an excellent ride of her own, an 8.27 to get back in the heat. A final opportunity came for both surfers in the dying moments of the final, but Peterson failed to capitalize and Moore walked away for the win.
Peterson's second place result in France equals her best finish in 2017 as she also earned the runner-up spot at the Roxy Pro Gold Coast earlier this year. The Californian shined through a difficult draw to earn 8,000 points, which advance her up to 6th place on the Jeep Leaderboard. The 23-year old has posted impressive results this year, but will look to Honolua Bay for a strong finish to the season.
"It is great to be back up here on the podium," said Peterson. "Gold Coast seems like ages ago, so it is nice to know I've still got it. It has been a really fun year for me. It has been a lot of ups-and-downs. The highs have been really high and the lows have been pretty low. I am glad to be up here once again and hopefully next time I'll be taking home the bigger trophy. I was super stoked to finish in such beautiful conditions. Thank you everyone and all the locals in Hossegor for giving us waves for this event. I really felt blessed to be out there."
World No. 1 coming into Hossegor, Sally Fitzgibbons, could not match Moore's flair in their Semifinal clash and claimed an equal third place for the fifth time this season. This excellent result further solidifies the Australian's position on top of the Women's Jeep Leaderboard heading into the final event of the season in Maui, Hawaii.
"It's been great to use the week we had to kind of better myself away from competition and keep surfing," Fitzgibbons said. "Carissa got the jump with that first 8.67 and it was tough to find one, in the end I needed that 9 point wave. I feel like my surfing was there, I really just didn't bump into the opportunity. It's good to be consistent throughout the year, but you know I have the desire, I want to win events and be on that podium."
The reigning World Champion and finalist last year in France, Tyler Wright brought her A-game to the Semifinals but found a massive hurdle on her road to the final as Peterson posted a near-perfect 9.43 opener. With a third Semifinal finish in 2017, Wright will move up to second on the Jeep Leaderboard with a shot at defending her maiden World Title in Hawaii.
Coming off a difficult week in Portugal where Wright sustained a knee injury prior to the event start, a hard working road to recovery with her entourage saw the powerful regular-foot come back to form just in time to compete in France.
"I've actually enjoyed the journey of this injury," Wright said. "It's actually pushed me forward at an accelerated rate. I have such a deep appreciation for all the time and efforts that everyone around me have put in, especially this week. It makes competing incredibly enjoyable and I'm so lucky to have them on my side."
Watch the highlights from the Quiksilver and Roxy Pro France below!
The next stop on the 2017 WSL Men's Championship Tour is the MEO Rip Curl Pro Portugal, which gets underway on October 20 2017 and runs through October 31, 2017.
–
Quiksilver Pro France Final Results:
1: Gabriel Medina (BRA) 16.00
2: Sebastian Zietz (HAW) 9.30
Quiksilver Pro France Semifinal Results:
SF 1: Sebastian Zietz (HAW) 16.26 def. Kolohe Andino (USA) 14.00
SF 2: Gabriel Medina (BRA) 16.40 def. John John Florence (HAW) 16.00
Quiksilver Pro France Quarterfinal Results:
QF 1: Sebastian Zietz (HAW) 15.93 def. Miguel Pupo (BRA) 14.10
QF 2: Kolohe Andino (USA) 11.60 def. Marc Lacomare (FRA) 6.10
QF 3: John John Florence (HAW) 19.67 def. Mick Fanning (AUS) 10.67
QF 4: Gabriel Medina (BRA) 15.20 def. Joel Parkinson (AUS) 1.20
Quiksilver Pro France Round 5 Results:
Heat 1: Sebastian Zietz (HAW) 14.40 def. Owen Wright (AUS) 11.73
Heat 2: Kolohe Andino (USA) 14.94 def. Caio Ibelli (BRA) 11.96
Heat 3: Mick Fanning (AUS) 15.70 def. Joan Duru (FRA) 13.37
Heat 4: Joel Parkinson (AUS) 14.03 def. Nat Young (USA) 10.24
Roxy Pro France Final Results:
1: Carissa Moore (HAW) 16.70
2: Lakey Peterson (USA) 14.50
Roxy Pro France Semifinal Results:
SF 1:Carissa Moore (HAW) 15.60 def. Sally Fitzgibbons (AUS) 13.07
SF 2: Lakey Peterson (USA) 17.20 def. Tyler Wright (AUS) 15.56
2017 WSL Men's Jeep Leaderboard (After Quiksilver Pro France):
1 – John John Florence (HAW) 49,900 pts
2 – Jordy Smith (ZAF) 47,600 pts
3 – Gabriel Medina (BRA) 40,750 pts
4 – Owen Wright (AUS) 39,850 pts
5 – Matt Wilkinson (AUS) 38,200 pts
2017 WSL Women's Jeep Leaderboard (After Roxy Pro France):
1 – Sally Fitzgibbons (AUS) 52,900 pts
2 – Tyler Wright (AUS) 51,200 pts
3 – Courtney Conlogue (USA) 50,000 pts
4 – Carissa Moore (HAW) 47,300 pts
5 – Stephanie Gilmore (HAW) 45,150 pts
–
All images: © WSL / Poullenot