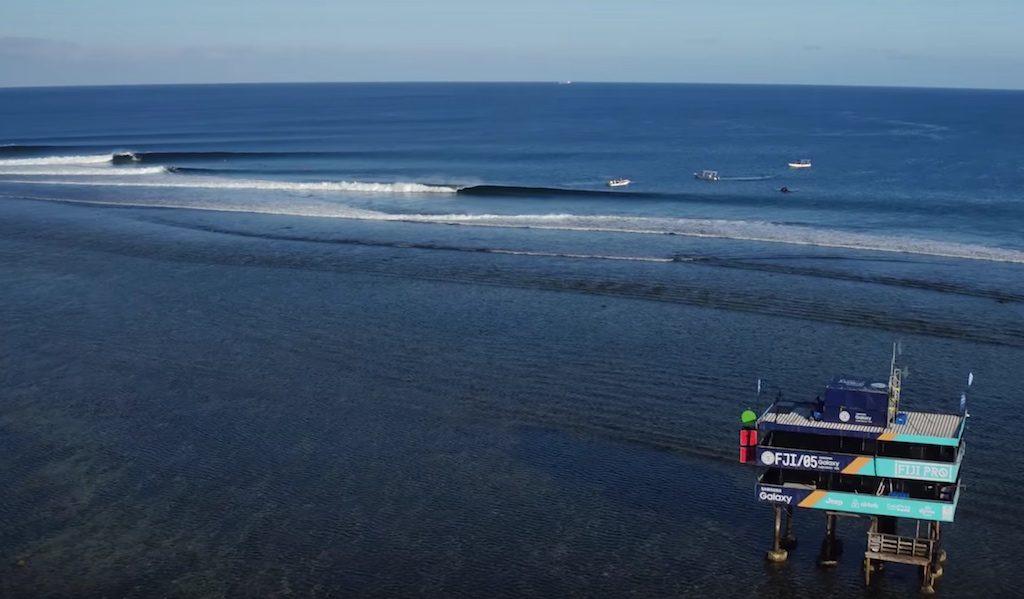 The swell arrived just in the nick of time for the 2016 Fiji Pro, which saw lay day after lay day for the first week and a half of the event. Not that any of the guys on the tour really minded, there's more fun to be had in Fiji than just surfing, especially for Taj Burrow and his band of merry men. The veterans on the tour had to give Taj a proper send-off, with this being the last WSL event of his career, and here's one snapshot from the revelry that occurred…
https://www.instagram.com/p/BGZGuOwDno9/
So it was beer-through-a-snorkel all round, and then an obligatory visit to Taj's late night barbershop, where an interesting hairstyle was dished out to all those willing…
Now with that out of the way, let's move onto the surfing, which was as spectacular as you would expect at the coveted Fiji contest. Things got off to a slow start but the grand finale sure made up for it. The old guard made a solid stand against the rookies who have been causing a few upsets this season, and some absolutely amazing barrels were had. To kick off here's Kelly Slater threading his way through one of Tavarua's finest tunnels, which earned him a well-deserved 10 points. Slater was really on form during the contest, reminding everyone that it's not quite over for him yet…
Who's next? Take a look at Futures Fins team rider John John Florence taking a deep drop on a seemingly impossible barrel and somehow making it out. If that wasn't enough, he then sets up to get barrelled again, just watch…
Ok, one more then we'll get on to who won the 2016 Fiji Pro. It wouldn't be right to not include one of Taj's rides in our rundown of the best waves of the contest, but this wave would make the cut whether he's leaving or not. He gets totally shacked, disappearing inside the wave before getting spat out, and then goes vertical to absolutely smash the lip. We're going to miss this guy on the tour…
Now on with the show! Skipping past the rounds, once it was quarterfinals time four of the contenders were former world champions. Medina, de Souza, Slater, and Fanning all made the final cut, along with Dantas, Buchan, Florence, and Wilkinson. After a poor result at Rio, Wilko was obviously keen to place well at Fiji, and he took out the Rio champion Florence to progress through to the semifinals, which he also won.
So Wilko was through to the finals, and it was Medina who he met there. Medina brought an end to Slater's awesome run in the semifinals, along with beating fellow countryman and last year's world champion, Adriano de Souza, in the quarterfinals. You're probably wondering how the final between Wilko and Medina went down? Just click play below to watch the highlights!
Despite coming 2nd at the 2016 Fiji Pro, Wilko still keeps the yellow jersey and is 8,500 points ahead of his nearest competitor, who is now Medina… Let's see what happens next month at the J-Bay Open!
https://www.instagram.com/p/BGvIievGwYb/