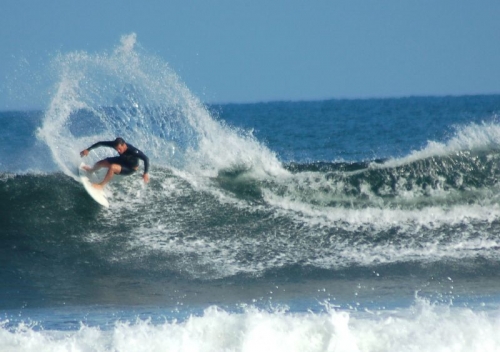 If you're looking to jump into the fun and rewarding sport of surfing, one of the decisions you'll have to make is whether to go with a longboard or shortboard. While both of these board types offer an exciting way to shred through the waves, there are some notable differences between the two which shouldn't go unnoticed. To learn more about the differences between longboards and shortboards, keep reading.
Longboards
Originally invented back in the 1500s, longboards were the first type of surfboard to hit the ocean. Although the materials used in their construction have changed throughout the years, their basic design remains the same. Today, longboards are equally as popular as shortboards, offering surfers more options when it comes to this exhilarating sport.
As the name suggests, longboards are 'longer' than their counterpart. The increased length offers a few key benefits, one of which is more stability. Since there's more space to plant your feet along with a greater amount of surface area pressed against the water, riders experience more stability on longboards. This is especially beneficial for newcomers looking to learn the ropes of surfing.
It's also easier to paddle out on a longboard as opposed to a shortboard. Just lay stomach-down on your board and paddle your hands through the water. As long as a big wave doesn't break right on top of you, using a longboard will allow you to easily make your way out.
Shortboards
Shortboards are a relatively new type of surfboard that's shorter than the longboard. Although it's a bit more difficult for beginners to learn, shortboards offer a greater amount of freedom for surfers. The aerodynamic shape and design of the shortboard allows for better maneuverability (which is why most professional surfers use them). If you want to make sharp cuts into waves, you'll want to stick with a shortboard.
Of course, shortboards are also capable of picking up more speed. When you hit a wave at just the right angle, you can use the momentum of your body to propel the shortboard across the water.
Riding a shortboard is all about timing. Through practice and experience, you'll learn proper wave timing with your shortboard. It's important to hit the wave at the right time to maximize the speed of your surfboard.
The bottom line is that longboards are easier to use but offer less mobility and speed than a shortboard. I recommend trying them both to see which one works best for you.