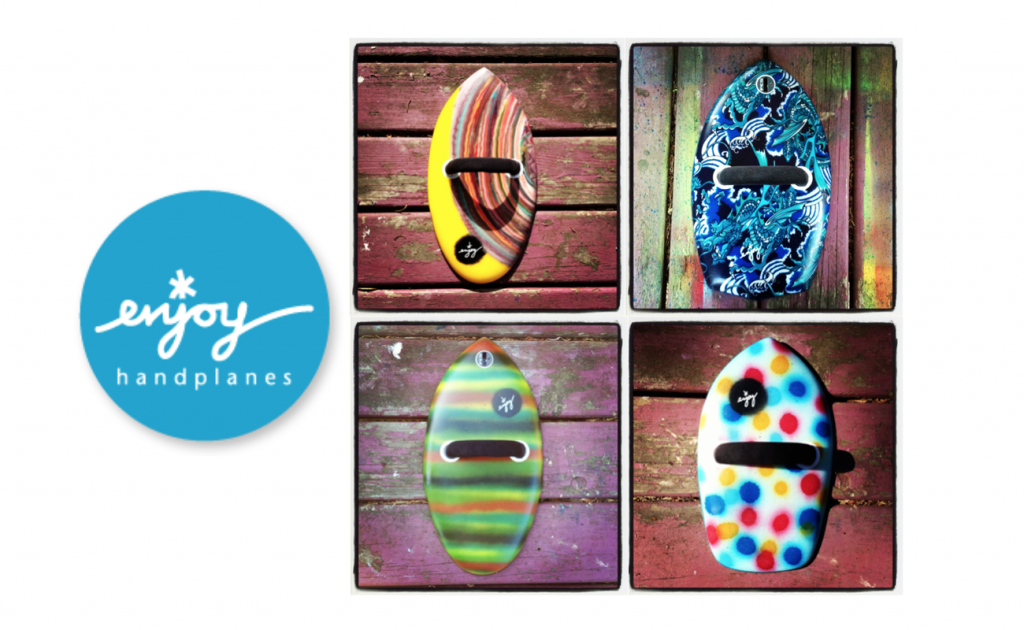 No doubt you've heard something about handplanes before, those little boards with a hand strap that can turn a bodysurfing session into something really special. They're not exactly a new thing, handplaning has been around just as long as surfing has, possibly longer. More and more shapers are turning their attention to handplanes as more and more people want to get their hands on one. There is no doubt that they are great fun to use, and a couple of guys out of California have put their heads together to kill two birds with one stone. Ed Lewis and Kipp Denslow from Enjoy Handplanes will recycle your old worn out surfboard or wetsuit to create a hand plane. Discarded blank foam is used to make the handplane and neoprene offcuts are used for the handles. While creating a new way to have fun in the surf, they are helping to reduce the damage to the environment created by the surf industry.
Keeping Enjoy Handplanes as Sustainable as Possible
The idea of sustainable surfing has really taken off in recent years, with board shorts being made out of recycled plastic bottles, the creation of new bio-derived resins, and not to mention Patagonia's merino wool and recycled polyester wetsuits. Ed and Kipp have kept the idea of sustainability integral to their hand planes. Reusing and recycling snapped boards, torn wetsuits and even old cardboard boxes is the foundation for the end product that comes out of the Enjoy Handplane's workshop. Foam is reclaimed, reworked, and shaped into the handplane blank. Neoprene, before destined for a landfill, is cut and sewn into handles attached to the deck. Entropy Bio Epoxy is used to glass the handplanes, so that even the usually toxic resin used to create surfboards is substituted for a greener alternative. Last but not least, a Enjoy tag is attached to the handplane, cut out from a cardboard box. As the guys from Enjoy Handplanes put it, their creations are 'Handmade With Love, Out of California Trash'.
Reduce, Reuse, Recycle. Repurpose
Check out this short film created by Michael Roseweir with the help of Ed and Kipp. It gives a great insight into how the Enjoy Handplane was born and shows you Ed getting out in the water to show you how much fun surfing a handplane can be.
Want one?
Take a look around the Enjoy Handplanes website to see pictures of the latest hand planes to come out of the workshop and keep up to date with news on their blog. You'll see you can get hand planes with FCS plugs installed on the deck so they can be used to mount a GoPro camera, along with custom-made bags to keep your handplane safe from dings and dents while traveling. The standard Enjoy Handplane is priced at $155, while having the optional FCS GoPro mount taps the price up to $165. Obviously you can request a customized hand plane too, with cloth inlay or extra colors, just contact Ed and Kipp to let them know what you are after. One of their snug fitting handplane bags will set you back $49, but it is money well spent to keep your custom Enjoy Handplane looking fresh.